Welcome to the Ter Waele website!
Ter Waele is the name of our home, built in 1959 in the area of the Hague near the North sea cost, and we still live in our family home.
During the 1960's the name Ter Waele was chosen by my parents as the stable name for their horsebreeding program.
Our family have been breeding horses for three generations, my grandfather, a successful tulipbreeder, began breeding his Gelder horses which were used for working the land. Between 1960 and 1980 we bred New Forest ponies, and then came the Arabians. With both breeds we competed in shows and trials, Dressage, Showjumping, Confirmation and Endurance.
Latest news items
12 August 2018
Tijdens de World Dog Show in Amsterdam behaalde Hydra vom Königsforst een Uitmuntend. Ter Waele Pitch behaalde een Zeer Goed. De keurmeester was de heer Vladimir Piskay. Beiden werden uitgebracht ...
Read more
11 August 2018
Op 17 juni 2018 slaagde Ter Waele Petter Phantom voor zijn IPO I examen bij H.V. Medio in Dinteloord. A: 90, Afd. B: 88, C: 80. Zijn totale score 258 punten en hij kreeg de kwalificatie Goed. ...
Read more
Stallion Qrack BD available at stud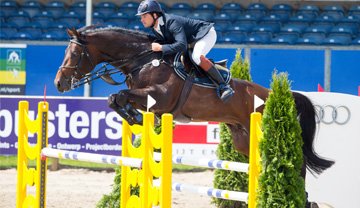 Qrack BD stands at stud (via A.I. - fresh/frozen) - A.E.S. qualified