Dekbericht Idorette-TW 2019-2020
Idorette-TW is gedekt door Chezarro. Het veulen wordt in mei 2020 verwacht.
voor het seizoen 2019-2020 heb ik gekozen voor de jonge hengst Chezarro van het Holsteiner Verband.

Details
Breeder: Kowalski Gabriele, Stadum
Owner: Verband der Züchter des Holsteiner Pferde e. V.,
Born: 01-05-2016
Stamm: 1298
Colour : Bay
Size: 172 cm
Upon the completion of Casall's exemplary showing career in May 2017, the sole focus in evaluating this stallion has turned on his achievements at stud, in terms of results and evaluation of his young offspring at foal inspections, the two-year-old colts presented for stallion grading, his daughters presented for studbook registration and in particular his sport horse offspring. The number of successful offspring is increasing year upon year and the champion of the 2018 Neumünster stallion grading, Cadilo, is also by Casall. Due to his offspring's worldwide achievements, Casall is listed on 3rd position on the WBFSH sire ranking already at the age of 19. Despite Casall and his offspring's great impact, it is necessary and of great importance for the Verband stallion keeping to have interesting sons put to stud.
The stallion keeping GmbH deems Chezarro, a stallion licensed in 2018, to be such an interesting Casall son. In his age group, the Caretino grandson was doubtless among those stallions with the most expressive type. Boasting a very well-constructed top line, he is also a particular attractive eye-catcher thanks to his dark coat and distinctive marking. His basic gaits are of extraordinary quality as the dark bay always displays an up-hill tendency with good rhythm and active hind legs.
Chezarro's jumping is in accord with his breeding, as he is very careful and demonstrates great intelligence and extraordinary quality as well as most impressive ability.
The pedigree offers a wealth of interesting information on Chezarro's genetic background. His dam Siance is by Conteur, a stallion closely related to important sire Contendro I. His second dam Ciance by Athlet Z introduces the highly successful international blood of the top showjumping sires Alme and Gotthard into the bloodline. His fourth dam, a full sister to exceptional stallion Lord, is of particular interest, as Fiance contributes plenty of first rate TB genes to Chezarro's genetic make-up: the TB stallions Ladykiller and Cottage Son guarantee performance attitude and hardiness.
CONSIDERATIONS FOR BREEDING:
This Casall son is expected to pass on his type and movement to his offspring. The successful mare family 1298 is an excellent guarantee for this stallion's performance potential.
https://www.holsteiner-verband.de/en/hengsthaltung/unsere-hengste/hengstuebersicht/de421000104716_v?hsLang=de-de
Source: Holsteiner Verband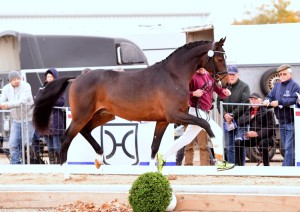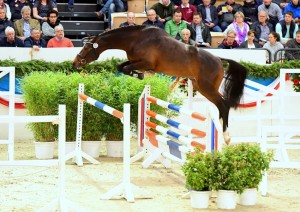 Voor meer informatie over toekomstige dekkingen of toekomstige veulens kunt u contact opnemen.