Stamm 18 B1
Information about STAMM 18 B 1, genetic family 18 B 1, focusing on the maternal line of Vierette BD.
The source of this Holsteiner bloodline is documented back to 1810. Since 1813 the family Thormählen, seated in Neuendorf, Germany, have been breeding horses who descend from this bloodline. Dr. Cord Thormählen is presently moving forward with his 6th consecutive generation from within this bloodline.
Bloodline 18 B 1 stems to modern times from the mare Ella, born in 1881. The entire bloodline was nearly lost with her passing. Ella gave birth to only two foals. Her daughter Hertha, born in 1887 & sired by Ethelbert, would continue the bloodline with the devotion of Mr. Martin Thormählen. Hertha, bred to Cicero f.i., produced three stallions, all 3 were approved by the Holstein studbook. Of these three stallions, Kürassier was the best performer, but he did not perpetuate the Ciceri bloodline, instead his genes were more prepotent from his mothers' side. Overall, the most important producer was Tobias, the last son of Achill by a Kürassier dam. The full sisters of Kürassier, Vesta and Wachtel, were also the dams of two very important stallions, Schiller and Vollmacht. Both stallions had a very good reputation and were influential in the studbook during the first part of the 20 th century.
Then, for five generations family 18 B I remained pretty quiet, but the mare Jura born in 1931 by Nenndorf, would produce a new generation of stars, the result of matings to the stallions Heine and Logarithmus. Once again, a new generation from 18 B 1 could prove their natural ability and talent for showjumping on a very high level. Oriënt, sired by Heine, ridden by Mr. Hans Gunter Winkler won the big event in Aachen in 1954 and a year later at the Equestrian world games for showjumping. Jupiter, sired by Logarithmus, ridden by Mrs. Annelies Hager, was the most successful showjumper of the South of Germany four times, on top of being very successful in Dressage.
After Hertha, the next highly influential mare of the 18 B 1 family tree was Dorette. Born in 1945, sired by the stallion Monarch. In 1961 and 1963 two sons of Dorette were chosen as approved stallions, and both became Gekört in the studbook. The first was Farn, sired by Fax I. Farn was a champion stallion, sold to the Netherlands after one breeding season in Holstein. In the Netherlands, Farn became one of the very best sires of all time, and his production ability was perhaps most brilliantly decorated by his legendary superstar son, Nimmerdor. Farn was also integral in many of his daughter's production, and therefore again extremely important. The stallions Fighting Alpha (Lars Nieberg) and It's Otto (Geoff Billington) are both out of Farn daughters. The Farn daughter, Wilma, ridden by Mr. Jeroen Dubbeldam, won over 140.000 DM at his first big international showjumping competition. The second Dorette son of great influence was Roman, sired by Ramzes AA. Roman's offspring did extremely well as showjumpers, and he would become a Holstein Champion of Inheritance. However, Roman's influence was perhaps most valuable through his daughters, and he is noted as the maternal grandsire to f.i. Cantus, Carolus and Carry. All three very important stallions.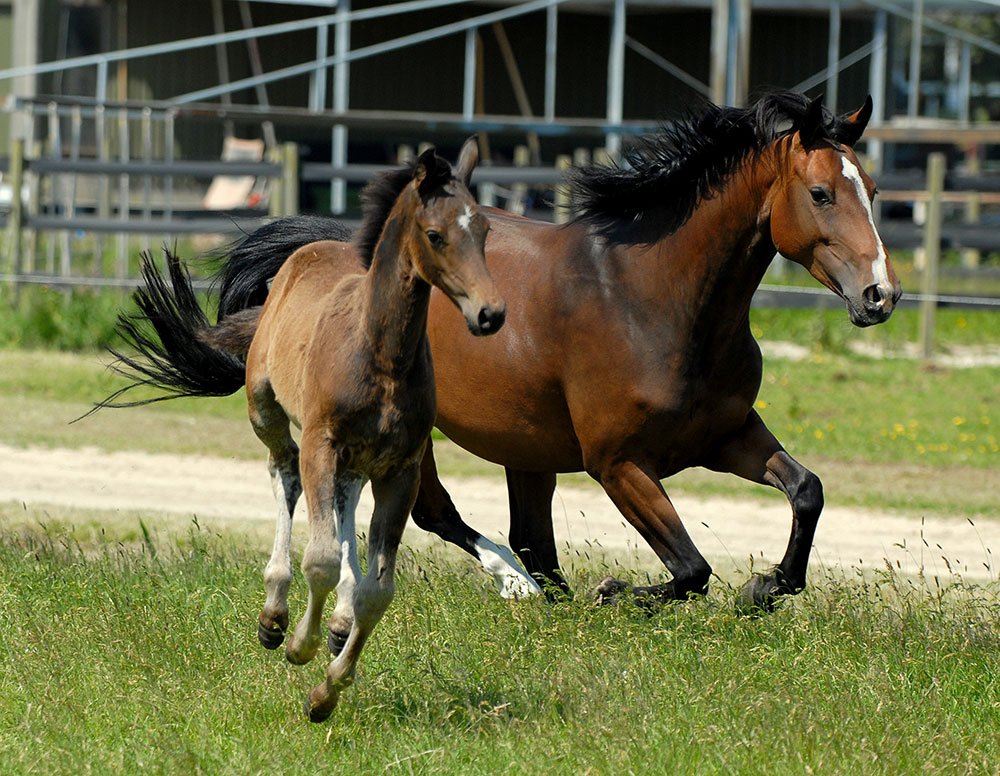 Dorette also produced two daughters of significant influence, Adrette - born in 1964 sired by Heilbutt, and Ella - born in 1968 and sired by Colt. Adrette was bred to Ramiro, giving birth to Ronald. Like Roman before him, Ronald's prepotence would be observed influentially through his daughters. His maternal grandsons include f.i. Alcatraz, Cortez and the World Champion Libero H. Dorette's daughter Ella received special recognition as the dam of four famous stallions. Most notable, Ella's first son, Constant - born in 1972, sired by Cor de la Bryere (Dr. Michael Rüping), another very famous sporthorse and sire. The stallion Chin Chin is one of Constant's most famous offspring. Chin Chin competed twice at the Olympic Games ridden by Jaime Azcarraga of Mexico, and is now a famous and popular stud in the Netherlands, much in demand for his high quality production. Another Constant daughter, Deichgräfin (Carsten Otto Nagel) won the World Cup in showjumping. Constant further made his mark through his maternal grandsons f.i. Coriander, Libertino and Ramirado, and the showjumper Cöster (Christian Ahlmann).
Representing the line very successfully today, we have Quantum, born in 1994 out of Constant's full sister Ulla V, sired by Quidam de Revel. Then we arrive at Nato, born in 1976, sired by the aforementioned Ronald. Nato is the product of a line breeding through two approved, "Gekört", stallions who appear often in the maternal line of stamm 18 B 1. - Sandos (sired by Sibersee) and Acalypso (sired by Acord II). Next, we have Luna To, born in 1996 sired by v. Contender. Currently, Contender is one of the most popular and highly sought after stallions among breeders. Several of Contender's offspring are performing at the highest levels in Showjumping today, f.i. Montender, Checkmate and Controe, just to name a few.
With an eye to the future, we come to the mare Rosette BD - born in 2001, sired by Carpaccio. Notably, Carpaccio produces horses who excel in all disciplines, showjumping, dressage and eventing. He already has several sons approved by the studbook, one of the famous being Chico's Boy. Rosette BD's first foal is our filly, Vierette BD - born in 2005, sired by Contendro II. Rosette BD's second foal is Qubie BD, a colt born in 2006, sired by Quality (Quinar). Now Rosette BD is expecting her third foal, from a repeat breeding to Quality. This combination represents a promising linebreeding, four times back on the famous Dorette. Dorette's family influence and perpetual quality remain as valuable & appreciated today, as they have been throughout her family dynasty. A dynasty now spanning nearly 200 years, perpetuating high expectations for the future.
Kiene Zandbergen
Breeder & Owner of Ter Waele Holsteiners