Hadierette-TW
Date of birth

26 th. of April 2015 - Deceased May 8 th. 2015
Sire
Lyjanero
X
Dam:
Dorette-TW,"
Staatsprämienstute"
Stamboom Hadierette-TW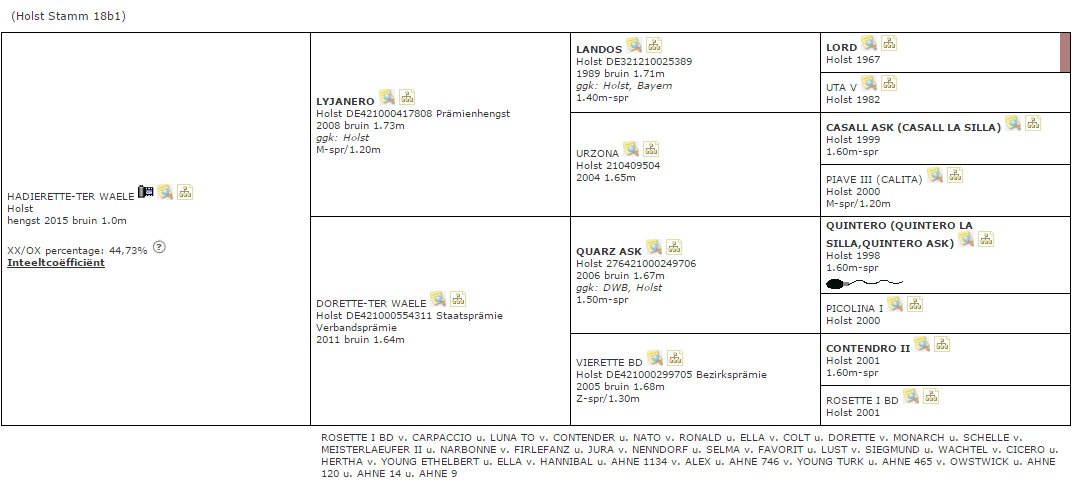 Lyjanero v. Landos x Casall x Carthago x Aurelio I
Lyjanero
Holsteiner, Bay 1.76mtrs. Stamm 18A1
Sire:
Landos x Casall x Carthago x Aurelio I
Lyjanero was first Reserve Champion of the 2010 Holsteiner licensing that was held in Neumünster. Lyjanero is a capital Holsteiner with an elegant format and in spite of his good size and large frame, is extremely well balanced with outstanding conformation and movement. He is known for his brilliant step-off and is a revelation at the jump. When commenting on the individual stallions, Holstein's Breeding Director, Dr. Thomas Nissen, showed his clear enthusiasm for Lyjanero, saying "It is only seldom that we have a stallion here who jumped with so much vision, calm and ability!" This assessment was confirmed at his 30-day test in Schlieckau where he received top scores in jumping, his specialty. At the same venue in 2013, he passed his 70-day test, once again standing out as jumping specialist, this time also receiving the maximum score of 10.0 for his character (which is extremely rare). He kicked off his breeding career in 2012 proving he is destined to be remembered as an outstanding and influential sire, and is passing along his strong-type and impressive movement to his offspring who are already dominating shows and winning championships.
The sire of Lyjanero - Landos (v. Lord) himself passes on his versatility and outstanding traits to his offspring, which can be found in an number of exceptional individuals competing in Grand Prix level Dressage and Show Jumping as well as offspring who have proven their talents at the Olympic level.
Lyanero's dam, is Urzona ZB1, a young daughter of the super Holsteiner stallion Casall Ask who was successfully shown by Mr R.G. Bengtsson in Show Jumping events internationally. He won numerous Grand Prix and World Cups in Jumping and also successfully competed at the 2012 Olympics. His grand dam is Piave III ZB1, a rated State Premium Mare by Carthago. Cathago himself was a proven International competitor, winning multiple show jumping events under the careful guidance of Mr. Jos Lansing. Further, the grandmother Korea ZB1-BP by Aurelio I has also produced several offspring who were successful in various events at the elite level as well.
The L-bloodline (Lord) has proven to be extremely influential in the performance world for Holstein, and is proudly continued by Landos himself having produced the licensed stallions Lordanos, Lantino and Lyjanero. Clearly success is stamped into the Lyjaneros bloodlines.