Ter Waele is the name of our home, built in 1959 in the area of the Hague near the North sea cost, and we still live in our family home.
During the 1960's the name Ter Waele was chosen by my parents as the stable name for their horsebreeding program. Our family have been breeding horses for three generations, my great grandmother and later my grandfather, a successful tulipbreeder, began breeding his Gelder horses which were used for working the land. Between 1960 and 1980 we bred New Forest ponies, and then came the Arabians. With both breeds we competed in shows and trials, Dressage, Showjumping, Confirmation and Endurance.
Our goal has always been horse which can do well under saddle, but also capable of performing very well in the showring. Our pure-bred Arabians are mostly Crabbet and Old English bloodlines, to which we have combined modern stallions from proven backgrounds.
In 2019 I sold my last pure bred Arabian mare, bringing to a close more than 35 years of breeding and raising these special horses.
Today, Ter Waele horses can be found in other successfully breeding and Sport Endurance programs around the world. They will continue to make their mark, and all of us here are Ter Waele will watch and cheer their success.
I personally want to thank all of the owners who believed in our program over the years.
You chose horses that carry bloodlines that were carefully created and remain rare to this day.
It is my sincere wish that you enjoy these horses a much as I have.
Thank you again for the trust you placed in our program, and the Ter Waele horses.
Since 2005 we have also promoted our Holsteiner mare, from the famous bloodline / STAMM 18 B 1. We hope she will give us a great start; her first offspring already showing great promise. All our horses are health tested and x-rayed clear before we will consider using them in our breeding programm.
Rottweilers have been part of our family since 1954 and I have been involved with dogs and dog related sports since I was a young child. I bought my first Rottweiler at the age of 12 at the famous kennel "Van het Brabantpark" from Mrs. A. Huijskens. I was extremely privileged that Mrs. Huijskens as well as numerous other German breeders and judges were so willing to share their knowledge to me.
The kennel has been around for more than 37 years. In November 1984 the kennel name
"Ter Waele" (Prefix) was registered with the Dutch Kennel Club in the Netherlands. A year later, our first litter of Ter Waele Rottweilers was born.
In addition to breeding, I very much enjoy training with my dogs. Over the years, I have been active in a number of dog clubs and breed associations, holding multiple positions in that time. This included holding the position of Secretary at the NVBH Kringgroep "Tussen Rijn en Gouwe" from December 1995 to February 2002. I was also on the Board of the Dutch Rottweiler Club (N.R.C.) and held the position of 2nd secretary from November 1992 to June 2012.
"Ter Waele" Rottweilers is a small and select kennel. In my breeding program, my first rule is that the dogs must be built correctly, with strong movement, proper character and the willingness to work.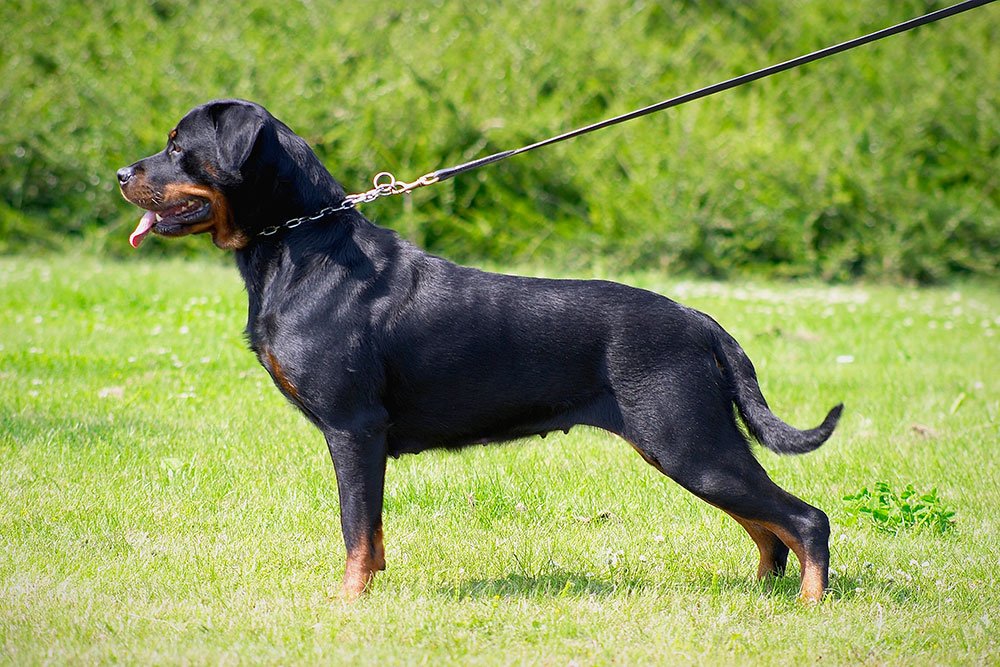 A balance of Type, Confirmation, Character and Soundness. All dogs used in our breeding program have hip & elbow clearance by the official committee of the Netherlands approved by the Dutch Kennel Club. Since 2004, all Ter Waele dogs are also DNA Certified by AKC (American Kennel Club) by MMI Genomics (MMIG).
Breeding is something we see as a life-time process, always thinking generations ahead, realizing that while "perfection" is the absolute goal, the process of pursing it will always produce the very best!
Please please enjoy our NEW "Ter Waele Website"!
Kiene Zandbergen